| | |
| --- | --- |
| | 客户登录 LOGIN |

| | |
| --- | --- |
| | 企业里程 MILEAGE |

| | |
| --- | --- |
| | 友情链接 friendship |
OEM板SF6908
---

全球最小GPS/GLONASS卫星定位导航OEM板



Introduces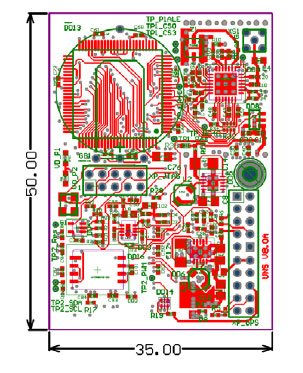 SF-6908A 24-channel GPS/GLONASS
receiver provides continuous
all-in-view navigation satellite tracking.
There are three modes of satellite
tracking:
The Mode I is system-primary and
automatically selected: receiver
channels track all GLONASS satellites
in view, the rest channels track GPS
satellites.
Other modes are available upon pilot
selection:
Mode II: tracking of all GLONASS
satellites in view;
Mode III: tracking of all GPS satellites
in view.
The digital receiver computes position, updates ten times a second, measures
position to 5 meters, and measures velocity to 0.1 m/s.
Main processing functions, handled by the SF-6908A , include:
− GPS position and velocity sensing
− The Receiver Autonomous Integrity Monitoring (RAIM), required for Non
Precision Approach, Terminal and En Route stages of flight; the Fault
Detection and Exclusion Algorithms (FDE) detect and remove erroneous
measurements
− Carrier-phase smoothing
− Providing digital interfacing
SF-6908A can use real-time RTCM differential correction for GLONASS and
GPS. Advanced signal-processing techniques, such as Differential GNSS and
Kinematics Carrier-Phase Tracking will allow GNSS systems to be certified
for Category (CAT) I, II Precision Approaches in the future.

Features
24-channel continuous tracking
receiver.
Three modes of tracking:
The Mode I is system-primary and
automatically selected: tracking off all
GLONASS satellites in view, free
channels track GPS satellites.
Other modes are available upon pilot
selection:
The Mode II: tracking off all GLONASS
satellites in view;
The Mode III: tracking off all GPS
satellites in view.
L1 frequency, C/A Code GLONASS and
GPS, digital processing (WAAS/EGNOS
in future)
Four-dimensional navigation
Expanded digital interfacing capabilities.
Physical Characteristics
􀁺 Dimensions: 50 x 35 x 13mm
􀁺 Weight: < 80 g
􀁺 Connectors: 20 pin (2x10) 2mm pitch
for digital, MMCX for antenna
Electrical
􀁺 On-board power supply accepts any
voltage between 2.4V and 5.5V
􀁺 On-board back up battery saves data for
about 10 years
Typical power consumption is < 0.5W
MTBF
No less 20000 h
Environmental
Operating: –40 °C to +80 °C
Storage: –60 °C to +85 °C
High shock and vibration resistance
Input/Output
􀁺 Two high speed (115.2 Kbps) standard
RS232 Serial Ports
􀁺 NMEA0183
􀁺 1 PPS output (3.3V, 16mA, TTL)
synchronized to GPS, UTC, or
GlONASS, less 40ns
Accuracy
Code phase precision:
7.5cm (GPS), 14 cm (GLONASS).
Carrier phase precision:
0.1 mm (GPS/ GLONASS).
Position: 5 meters
Altitude: 8 meters
Velocity: 0.1 m/s (steady-rate)
Time: Universal Coordinated Time to the
nearest microsecond
Update rate: Up to 4 Hz update rate for real
time position and raw data (code and carrier)
Acquisition time
Hot Start: <30 s
Cold Start: <150 s
Reacquisition: <1 s
Dynamics
Velocity: 515 m/s
Altitude: up to 18 km
Acceleration: 10G
Jerk: 10 G/s

Pin Description